Events & Activations
Events & Activations
We will put your brand in the industry spotlight by engaging experts, supporting trade shows, securing coverage in key publications, and uncovering thought leadership opportunities to elevate corporate and executive visibility.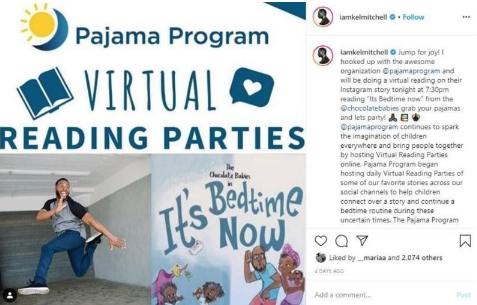 Pajama Program
Keeping Kids Engaged with Reading During COVID-19
Challenge
In the wake of COVID-19, Pajama Program, a non-profit organization that promotes and supports a comforting bedtime routine for children to help them thrive, had to suspend programming and temporarily close its Reading Centers. Pajama Program tasked LPR with finding a solution to keep the thousands of children that relied on its centers engaged. Leveraging the power of social media, LPR teamed with Pajama Program to launch daily Virtual Reading Parties on Instagram. To generate awareness for the parties at launch and excite families about attending, LPR secured celebrities and social influencers to volunteer their time and read their favorite bedtime story.
Approach
To fill the Pajama Program social account with magical stories of imaginative adventures, we engaged favorite celebrities and family friendly influencers. Leveraging Pajama Program's feel-good mission and tapping into the widespread desire to give back during a heightened time of need, we invited the influencers and celebrities to film themselves reading a bedtime story of their choice and a bedtime tip to be shared on Pajama Program's Instagram. To amplify the activity and promote fundraising, participants were encouraged to share their Virtual Reading Party video with their Instagram followers and include the "Donate Now" button.
Results
Celebrities and influencers – including Kel Mitchel, Melissa Joan Hart, Bethany Joy Lenz, Peta Murgatroyd, Meryl Davis, and William Daniels (aka Mr. Feeny himself!) – supported the Pajama Program Virtual Reading Parties by donating their time and sharing the campaign with their communities. Their involvement helped raise awareness for the organization and underscored the importance of a good night sleep. The commitment from 20 celebrity and influencer volunteer readers kicked off the Virtual Reading Party program with terrific momentum, generating 12 million social impressions and driving participation from families across the country.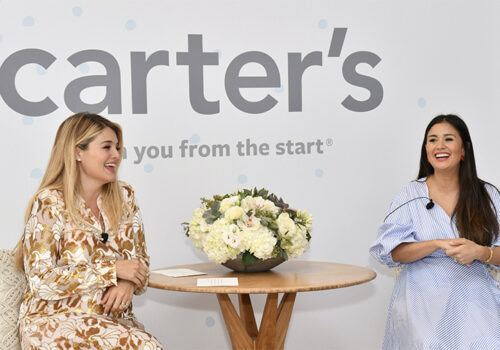 Carter's Brunch
Leveraging the Power of Celebrity to Connect with Consumers
Challenge
Timed to Mother's Day, Carter's was set to launch its annual Little Baby Basics Collection – the essential pieces for building a child's first wardrobe – and sought a way to foster a deeper connection with its consumers.
Approach
To position Carter's as a trusted partner and create excitement for the launch of its Little Baby Basics line, we invited press and influencers to join the brand for a heartfelt conversation about being a mom with Catherine Lowe, entrepreneur and TV personality, and Daphne Oz, Emmy-winning TV host and bestselling author. Our invite list included journalists and influencers that cover children's apparel as well as expecting and new moms working in lifestyle media. By tapping into the conversation surrounding Mother's Day and leveraging the power of shared parenting experiences, we created an intimate event that fostered authentic connection between our guests and immersed them in the brand.
Results
Coverage resulted in more than 239 million media impressions and 16.5 million social impressions, event attendees included journalists from Good Housekeeping, Woman's World, Parents, New York Post, Yahoo! Lifestyle, and People.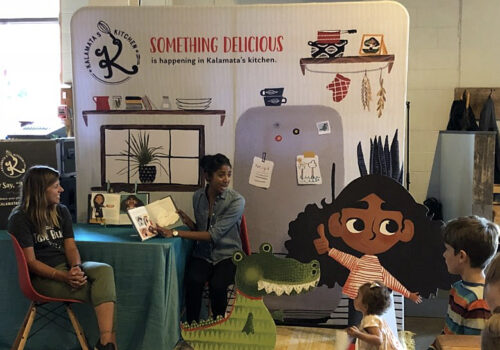 Kalamata's Kitchen
Local Event Gets 5-Star Review and Kicks Off National Roll-Out
Challenge
Kalamata's Kitchen, a series of stories featuring a magical place where culture and culinary wonders come to life, was launching its first book. Featuring chef Ilma Lopez, the book debut took place in Portland, ME, the community where Lopez co-owns two restaurants, and LPR was tasked with exciting and engaging local press and influencers to build regional buzz before the brand took the national stage.
Approach
To give Portland a taste of Kalamata's Kitchen, we invited local influencer families and press to a special VIP experience that brought the book and its core message to life. Tapping into the brand's mission to create a new generation of curious and compassionate eaters, the event invited children on a food adventure with a variety of local restaurants rewarding them with colorful stamps on their "Food Passport" in exchange for each new food they tried. Once their passports were complete, kids took photos with characters from the book, enjoyed a reading of the story by author Sarah Thomas, and decorated cupcakes with chef Ilma Lopez. Parents participated in a silent auction for one-of-a-kind Kalamata Kitchen artwork and proceeds benefited local charity "Full Plate, Full Potential." Following the VIP experience, the event opened to the public to immerse the community into the world of Kalamata's Kitchen, raise awareness for the brand, and generate book sales. 
Results
The book launch got Portland buzzing with a pre-event feature story in the Portland Press Herald and a wave of social coverage on Instagram and YouTube documenting the unique experience. With six million media impressions and 2.5 million social impressions, this local event laid the foundation for a successful national launch and a delicious series of food adventures to follow.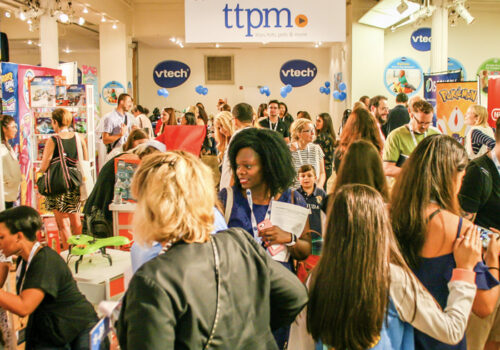 TTPM Holiday Showcase
Creating a Destination Event in a Season Crowded with Competition
Challenge
The TTPM Holiday Showcase – an exclusive, one-day press event highlighting the best in the toy, entertainment and pet categories – was celebrating its 10th Anniversary in 2018. Our challenge was twofold: position the Showcase as the premiere destination for press in a season crowded with similar events; grow and diversify attendance to increase event value for exhibiting companies.
Approach
Our strategy positioned the event as a resource to both the press and exhibitors, a one-stop shop for holiday trend spotting, content generation, and editorial 'shopping.' To draw spot news, social influencers, and fan sites we worked with exhibitors to help them create interactive, socially sharable brand experiences. To engage traditional media and business press, we partnered with TTPM and exhibitors to identify unique story angles and exclusive opportunities such as executive interviews or product reveals.
Results
By creating unique on-site opportunities and leveraging the leading industry experts, more than 150 influencers, YouTube creators, and fan sites attended along with over 80 traditional media guests including the Today Show, CNBC, and The Associated Press. Social conversations spiked on the event day, generating more than 15.3 million Twitter impressions.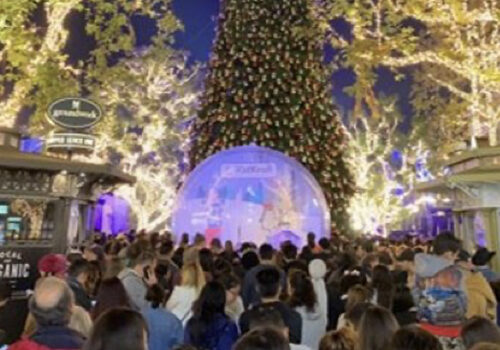 KidKraft Winter Wonderland
Building Brand Awareness Through Hands-On Interaction
Challenge
Many families have KidKraft product in their homes and while beloved, for many parents KidKraft is not a household name. To change that and help drive sales, KidKraft asked us to build brand awareness and generate excitement about its product lineup during the key holiday shopping season.
Approach
To bring its tagline 'Made for Make Believe' to life, we created an imaginative, playful, and memorable activation: a one-day winter wonderland contained in a life-size snow globe. To engage consumers and get them buzzing about KidKraft, we filled the snow globe with priority products and put it in the middle of the Annual Tree Lighting Celebration at Christmas at The Grove in Los Angeles. Families enjoyed a magical, share-worthy experience as they stepped inside the globe and got hands-on with KidKraft products. To amplify the experience, we partnered with select LA social influencers to attend with their families and create content, expanding the reach of the activation to their audiences.
Results
The KidKraft Winter Wonderland Snow Globe was packed throughout the day, with a 30-40 minute wait time and a line across the plaza. More than 1,000 lucky guests were able to walk in and interact with the products resulting in more than 750,000 total social impressions and countless happy memories.